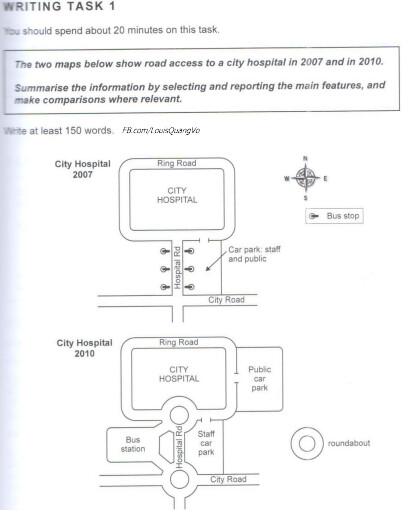 The two diagrams illustrate the roads leading to a City Hospital in 2007 and 2010.
Overall, the infrastructure of Hospital Road had more extensive innovations in 2010 compared to 2007. Over the period, a bus station, traffic circles, and a separate parking area for citizens were added to the southern and eastern parts of the City Hospital.
In 2010, there were two roundabouts constructed on Hospital Road. The first one was placed at the T-junction with City Road while the other was right south of City Hospital. If six bus stops were scattered equally along two sides of Hospital Road in 2007, they had demolished to make way for the bus station on the left-hand side of the road connecting with the two traffic circles.
The parking area was extended with a new parking lot for residents in 2010. Being accessed from Ring Road, the new car park was built to the east of the City Hospital. The old car park on the right side of Hospital Road was employed for staff only.