Dear teacher,
Please help me check my friend's writing.
Thanks,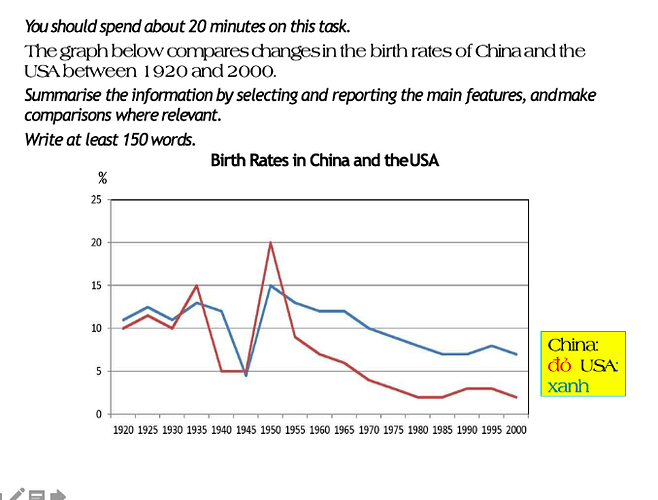 The line graph indicates changes in birth rates between the two countries namely China, USA from 1920 to 2000
In general, these were both downward trend of birth rates between 1920 anh 2000. Despite the similarity of the two figures. The birth rate of China wasn't as high as the USA one.
In the 1920s the procreation rate of China still remained above 10 percent and fluctuated continously over a 20-year period Until 1935,after a decade , the rate went up to 15 percent. However, the figure dropped to 5 percent in 1940. The proportion of children giving birth still remained 5 percent during the 1940s. Nevertheless ,1950 witnessed a dramatic increase of 15 percent but in 1955 the rate fell to below 10 percent.From 1955 to 2000 ,the percentage of the children procreation saw a general and continual decline.
The birth rate of America in the 1920s is similar to the China one, there were both fluctuated uninterruptedly. there was a slight increase of the figure in the year 1935 , then it falls lightly in 1940 and decrease sharply to 5 percent in 1945.However, the USA rate went up significantly in 1950. Over the 50 -year period ,the number of children giving birth witnessed a gradual decrease.
Overall , both of the rates varied significantly between 1920 and 2000. They both decline gradually after 1950.